Self-Ligating Brackets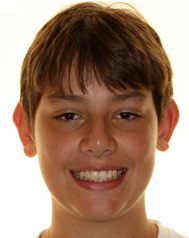 Lotus® passive, self-ligating bracket system offers a comfortable, low-profile way to wear braces!
Dr. Vardy is pleased to offer Lotus self-ligating braces! Lotus braces are a comfortable, safe, and effective alternative to traditional metal braces.
Choose Lotus braces for your comfortable orthodontic treatment!
Lotus braces mean easier adjustments, smaller, less noticeable brackets, and more time spent enjoying your new smile!
Here are a few reasons why you should consider Lotus self-ligating braces for your smile:
Aesthetic, low profile design - Lotus brackets are smaller than traditional metal brackets, making them more aesthetic and perfect for smiles of all ages.
Increased comfort - Lotus braces are designed to provide passive wire adjustments that reduce the amount of friction and improve the patient's level of comfort.
Precise placement - Lotus brackets have a unique shape that makes them easier to place, and prove a better fit for your teeth.
If you would like to learn more about Lotus braces, please contact Vardy Orthodontics at (212) 579-6881; and, schedule an appointment with Dr. Vardy to find out if Lotus braces are the right choice for your orthodontic treatment.