Your First Visit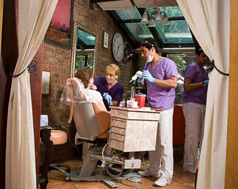 At the first visit to the orthodontist, diagnostic records are made to determine the best course of treatment. Complete diagnostic records typically include a medical/dental history, clinical examination, photos of the patient's face and teeth, X-rays, and study models. This information is used to customize a treatment plan for each individual patient. These records are also helpful in tracking the progress of treatment as the teeth move under orthodontic care. After the doctor has evaluated your records, your treatment plan is discussed in detail, including the cost for your particular case.
What happens after the initial consultation?
If you do choose to receive orthodontic treatment, an appointment will be made for appliance placement. Initial appliance placement is approximately 1hour and may require 2 visits.
Regular Appointments
After initial appliances have been placed, regular appointment intervals are approx. 4-8 weeks apart for each adjustment, depending on progress achieved, which take 20-40 minutes each. Patients are seen by appointment only. We make every effort to be on time for our patients, and ask that you extend the same courtesy to us. If you cannot keep an appointment, please notify us immediately as your appointment time is specifically held to treat you and may be of value to someone else.
We understand that "life happens," so if you're running late or need to reschedule, please let us know, and we will do everything we can to accommodate you. When you're ready to schedule your first appointment, call our practice (212) 579-6881; we're looking forward to working with you.
Visiting the dentist during orthodontic treatment
It is important to visit your family dentist every 6 months during orthodontic treatment for teeth cleanings and routine dental checkups. If extra dental care is needed, we will be happy to coordinate with your family dentist to make sure that you are receiving the best care possible.
Payment and Office Policies
The cost of treatment depends on the severity of the patient's problem. You will be able to discuss fees and payment options before treatment begins. For your convenience, we accept payment with VISA, MASTERCARD, and AMERICAN EXPRESS. Some insurance plans may be incorporated into your payment plan. Employers Flex Spending accounts may also be used toward your individualized payment plan.
Please help us be prepared for your first appointment by completing the appropriate forms ahead of time. Click here to download and print our patient forms.