Testimonials
O K - Jan 14, 2011
(five stars)
>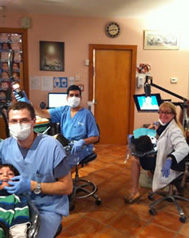 Dr Vardy is the most professional orthodontist I ever met.
I had a difficult case (impacted molars) where all previous orthodontists didn't want to touch before taking out half of my mouth, she took her time and researched until she was ready to choose a route that was right for me (with only one extraction), I am now half way through and the results are amazing. I believe the reason for that is her exceptional passion and dedication to the practice and her patients with an unmatched level of perfectionism - nothing I've seen before (dealing with actually any type of Dr - not just ortho). The atmosphere in the clinic is very home-like and the staff are super nice, very respectful to the patient's time , I never had to wait more than a minute for my appointments which is extremely rare these days. Anyone looking for a top notch ortho on the UWS - this is the place!
Anna - Jan 7, 2011
(five stars)
Dr. Vardy has been extremely helpful to me, going above and beyond the typical orthodontist's role.
My orthodontic treatment has been tricky. I had a tongue thrust problem; in addition, I attend college halfway across the country. Dr. Vardy diagnosed the tongue thrust issue immediately (something that the orthodontist I had been working with for the previous two years hadn't managed). Furthermore, she worked around my college breaks, enabling me a speedy treatment (about 8-9 months) without sacrificing the quality of orthodontic work. She is always available when I have a question about my braces/bands, which is indispensable as I am only in the area for short periods of time. Her expertise has been invaluable to me.
DC - Nov 12, 2010
(five stars)
Happy patient!
Dr. Vardy is an amazing orthodontist! I am currently in treatment and I'm extremely pleased with the results so far. Dr. Vardy is friendly and knowledgeable and the office is in a beautiful area. I highly recommend her!
Jeff - Mar 4, 2010
(five stars)
Dr. Vardy is an excellent orthodontist.
My son is a patient for a little over two years. We are getting close to completing the work and both of us are very pleased with the results. In fact I am very jealous. What I find especially impressive is Dr. Vardy's ability and patience explaining the work being done in my son's mouth as well as the larger big picture process of what he is going through. This helps make my son much more at ease with the procedure and gives me a sense of confidence that everything is being done to make sure he is in the best health possible. Another component of her business that I value is her understanding of customer service and her effort to see that the staff goes the extra step in making sure her clients are treated properly. As someone who works with customers every day, good customer service is something that is very important to me and usually VERY lacking especially in the medical profession. I highly recommend Dr. Vardy as an Orthodontist.
Nickatrina - Feb 28, 2010
(four stars)
Vardy Orthodontics The office itself is beautifully decorated and extraordinarily comfortable.
The staff are friendly, considerate and engaging. Dr. Vardy herself is an outgoing, skilled orthodontist. Definitely recommended.
Monica - Feb 27, 2010
(five stars)
Great experience
Dr. Vardy is so friendly and skilled at orthodontics, and I really appreciated the accessibility of the office. I never had trouble getting in for appointments, and she was fantastic about sticking to the timeline she initially told me for the treatment (contrary to my friends at other orthodontists, who were told 2 years at the start and ended up wearing braces for much longer than that). Definitely recommended!
Eric - Feb 25, 2010
(five stars)
Brilliant Orthodontist
Dr. Vardy is quite simply a brilliant orthodontist. While many may view orthodontia as a science, she has artistic vision when it comes to the aesthetic of a smile, and how it can influence one's life. Her offices are staffed with friendly people, and she is able to attune herself to the desires and needs of every patient. Dr. Vardy's office is warm and welcoming environment.
Gabrielle - Feb 9, 2010
(five stars)
Excellent care & friendly staff
My entire family went to Dr. Vardy and staff for braces and all of us were very satisfied with her expertise and the friendly atmosphere of her office. She is very capable and highly interested in her work.!
RTLmommy - Nov 23, 2010
(five stars)
WONDERFUL doctor
Really understands kids, technically excellent, great results. Warm, knowledgeable staff. Office has a 'neighborhood' feel.
Sam T
(five stars)
Dr. Vardy and her team are always the best!
Great patient care and a staff that really listens. I recommend her to all my friends!