Meet Our Orthodontist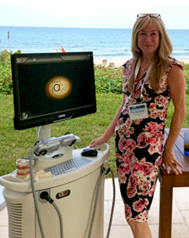 Dr. Iris Vardy at Invisalign Forum 2011 w/Dental scanner that eliminates need for dental impressions in our office.
Nestled in the heart of Manhattan's Upper West Side sits a beautiful 100-year-old brownstone. The impressive, yet warm, antiquity of the 130 West 78th Street home provides a comfortable, classic setting for patients and families who visit the orthodontic practice of Dr. Iris Vardy.
Just blocks away from the American Museum of Natural History, and the lush, serene grounds of Central Park, Dr. Vardy's office truly encompasses the meaning behind her practice - providing successful orthodontic treatment in a tremendously warm and caring environment, and allowing every patient to feel like a member of her immediate family.
Dr. Vardy genuinely loves her work as an orthodontist. Her many years of dedication and commitment to orthodontics and her community have allowed her to establish the ideal practice she operates today. Dr. Vardy and her team are excited to welcome you to the practice, and look forward to helping you achieve the beautiful, healthy smile that you've always wanted.
Committed to Excellence in Orthodontics
Dr. Vardy is a professional in every sense of the word. From the very beginning, she dedicated her time and energy to perfecting her skills in dentistry to become one of the leading orthodontic providers in New York. Her determination to provide her patients with the highest quality never falters.
Dr. Vardy began her dental school training at Harvard University's School of Dental Medicine, and then transferred to New York University College of Dentistry so that she could be close to ailing family members. She obtained her dental degree at NYUCD and remained there to complete her Post Doctoral Specialty Training in Orthodontics in 1993.
Continuing education is an important part of Dr. Vardy's commitment to orthodontics. There are always new treatments and techniques being developed, and she strives to offer the most advanced treatment options, which include, but are not limited to:
Invisalign®
OrthoCAD™
Incognito™
In-Ovation®
Invisalign Teen™
In-Ovation® C by GAC
Vivera Retainers
Achievements and Awards
In 1993, Dr. Vardy was awarded the Ron Lorber Achievement Award as chosen by an elite committee of orthodontists and based on her exceptional level of skill, commitment and energy as an orthodontist. In February 2003, Dr. Vardy was again selected by a prestigious and nationally recognized panel of orthodontists who commended her for the high level of standards she upholds both in her diagnostic abilities and her treatment results, after which she received Diplomate status with the American Board of Orthodontics.
The Importance of Family and Community
Two of the most important things in life are family and friends. Dr. Vardy feels blessed to be part of such a wonderful community - a place where she is able to share her passion for life and helping others.
It is through her limitless enthusiasm and devotion for orthodontics that Dr. Vardy is able to be involved in not only her local community, but the global community as well. Whether she is mentoring the Pre-dental Undergraduate Columbia University students, writing a column in the Upper West Side Neighborhood Gazette about the importance of dental care, volunteering as a dentist for the First District Dental Society's Skate Safe program in Harlem, or traveling the globe to provide dental care for impoverished children and adults, Dr. Vardy's passion for her profession continues to thrive as she looks forward to the next opportunity to share the gift of a beautiful smile.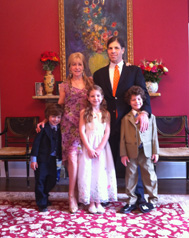 Wishing you peace on earth, from Our Family to Yours :-)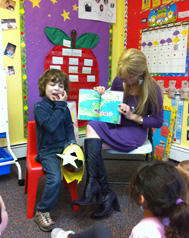 My David pointing to his tooth...as Mommy reads a book about teeth to his class :-)
Outside of the practice…
Dr. Vardy enjoys yoga, skiing, art, travel and family. A competitive athlete, she has competed in Killington Vt.s Annual Mogul Challenge, as well as Killington's Annual spring tri-athalon (ski,bike, run); in college she was a competitive Spring Board Diver for SUNY Albany's Varsity Swim Team, qualifying for State Level Competitions, and was chosen captain of Great Neck North Sr. High School's Gymnastics team, qualifying at the tender age of 12 for State level competitions. Art is a all around us and Orthodontics is the perfect combination of Art and Science, Dr. Vardy's 2 great passions...just take a look inside our office's Virtual Tour, revealing Dr. Vardy's eye for interior decorating. She is also a huge advocate for local schools, and gives back to the community through various donations and fund raisers for education. Dr. Vardy and her team look forward to working with you, and are proud to welcome you to their orthodontic family!
Please click here to view our contact information
---